Privacy Policy
Details

Category: Company
This privacy policy discloses the privacy practices for (website address). This privacy policy applies solely to information collected by this web site. It will notify you of the following:

    What personally identifiable information is collected from you through the web site, how it is used and with whom it may be shared.
    What choices are available to you regarding the use of your data.
    The security procedures in place to protect the misuse of your information.
    How you can correct any inaccuracies in the information.

Information Collection, Use, and Sharing
We are the sole owners of the information collected on this site. We only have access to/collect information that you voluntarily give us via email or other direct contact from you. We will not sell or rent this information to anyone.

We will use your information to respond to you, regarding the reason you contacted us. We will not share your information with any third party outside of our organization, other than as necessary to fulfill your request, e.g. to ship an order.

Unless you ask us not to, we may contact you via email in the future to tell you about specials, new products or services, or changes to this privacy policy.

Your Access to and Control Over Information
You may opt out of any future contacts from us at any time. You can do the following at any time by contacting us via the email address or phone number given on our website:

   • See what data we have about you, if any.

   • Change/correct any data we have about you.

   • Have us delete any data we have about you.

   • Express any concern you have about our use of your data.

Security
We take precautions to protect your information. When you submit sensitive information via the website, your information is protected both online and offline.

Wherever we collect sensitive information (such as credit card data), that information is encrypted and transmitted to us in a secure way. You can verify this by looking for a closed lock icon at the bottom of your web browser, or looking for "https" at the beginning of the address of the web page.

While we use encryption to protect sensitive information transmitted online, we also protect your information offline. Only employees who need the information to perform a specific job (for example, billing or customer service) are granted access to personally identifiable information. The computers/servers in which we store personally identifiable information are kept in a secure environment.

Updates

Our Privacy Policy may change from time to time and all updates will be posted on this page.

If you feel that we are not abiding by this privacy policy, you should contact us immediately via telephone or via email.


Career
Details

Category: Company
The CV must be submitted at the secretary or sent to This email address is being protected from spambots. You need JavaScript enabled to view it.. 
You will be contacted to arrange an interview, only if your profile meets the requirements. 
Additional Requirements: 
Availability to work overtime regime;
Adaptability and flexibility.
Legal frame
Details

Category: Company
INOX is registered as trademark.
Many details of production are covered by patents of utility industries.
Using materials available on the site is allowed only for purchasing stainless steel products.
All material is protected by rights arising from  intellectual property. 
Certification
Details

Category: Company
The craftsmanship that distinguishes INOX SA products is a valuable asset and it is the secret behind efficient flexibility.
At the same time, INOX SA continues to invest to acquire the means to ensure even more quality and efficiency.
The production workers can count on prompt, precise directions thanks to the CAD-CAM systems that automatically transfer the information to the working machines.
The punching,bending systems and the modern panelling machines make it possible to create products with an innovative design and with impeccable finishes.
The quality of an essential element in the choices of INOX SA.
For this reason, quality control before shipment is carried out on 80% of finished products.
The design office and the research and development area are managed by skilled, motivated people who have at their disposal suitable technical means and a high quality standard.
For this reason, INOX SA has obtained the ISO 9001/2008 quality certification, extending its quality system to include the research and development area.
Working well is a way to be for us, and your appreciation is our best reward.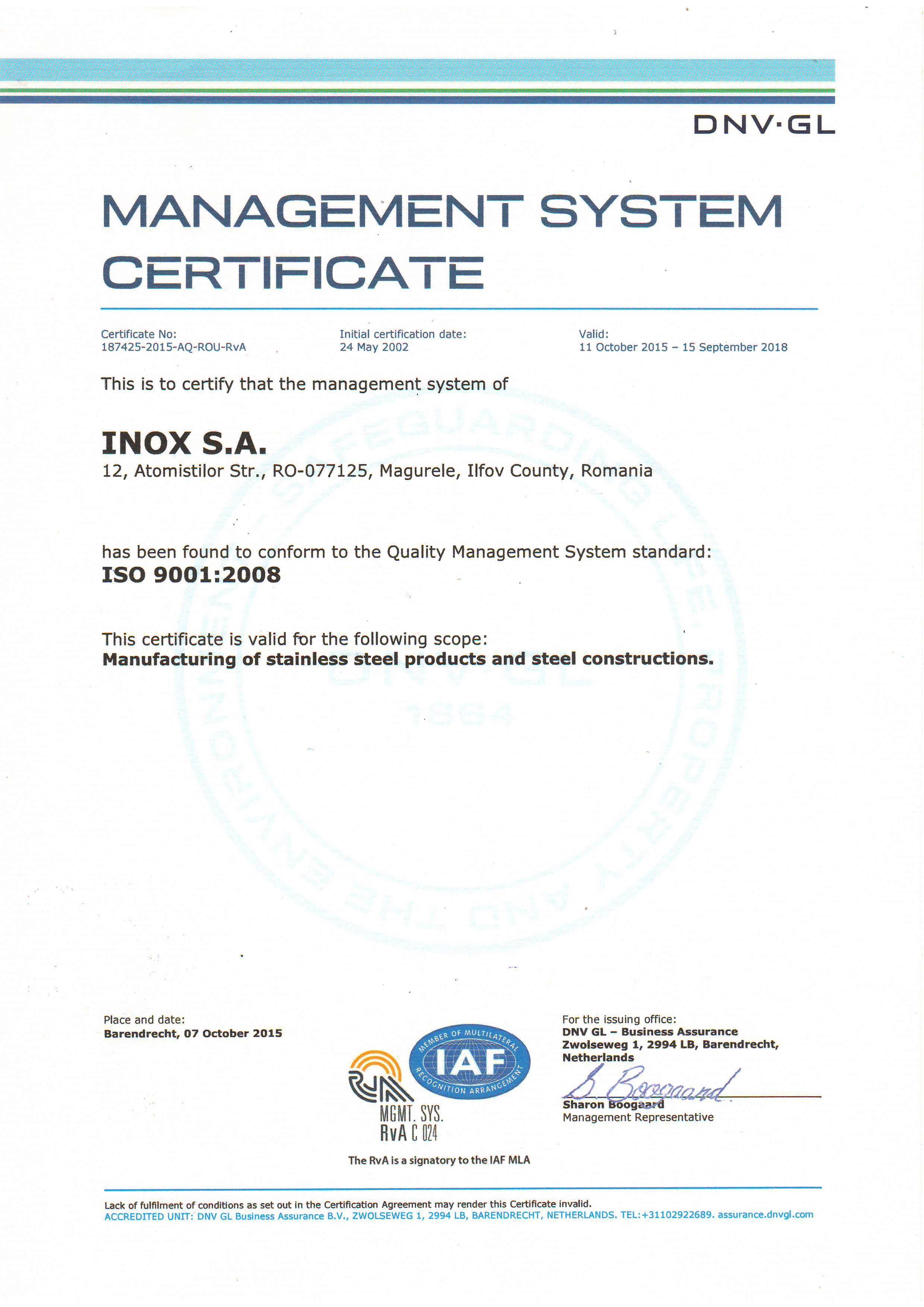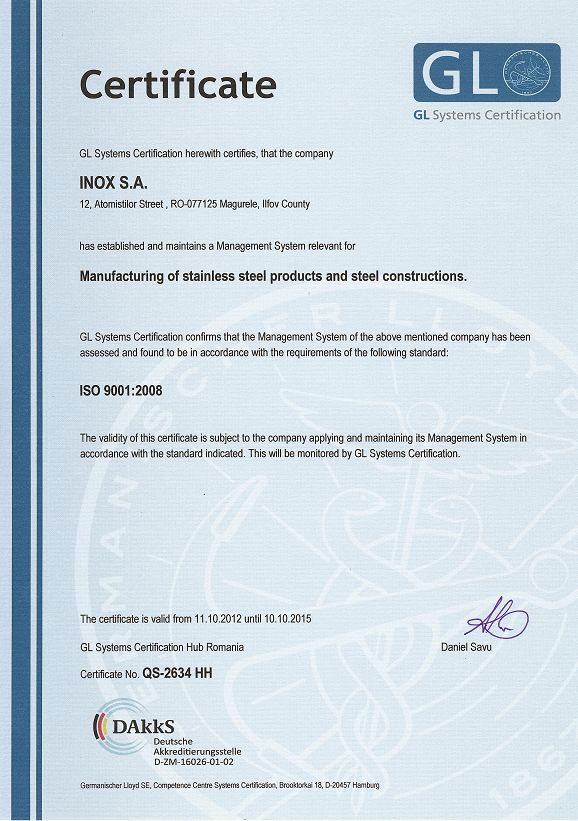 History
Details

Category: Company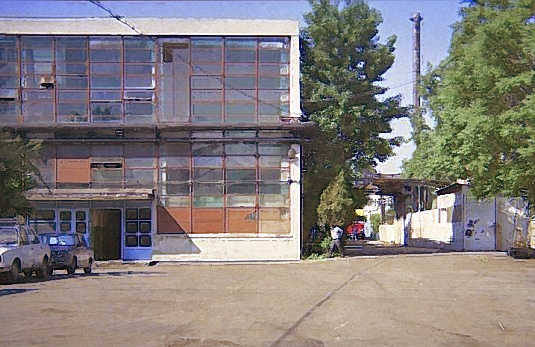 INOX was founded in 1937 as a private company, based on jewelleries and silver cutlery.
After the Second World War, the company became a state company and went trough several successive transformations concerning the activity object and technological development.
The company diversifies it's production with: scissors, penknives, alimentary liquids storing equipments, alimentary liquids log-jam traffic lanes and components, neutral equipments for train bar-restaurants.
After 1990 it became again a stock company, and since 1995 an entirely private company.
Over the years, the company had many names, but from 1964 it is called INOX, a name used until our days.
INOX is a registered mark.
In it's history, the company was registered under two logos:
| | |
| --- | --- |
| Used between 1964 and 1990 | Used since 1990 |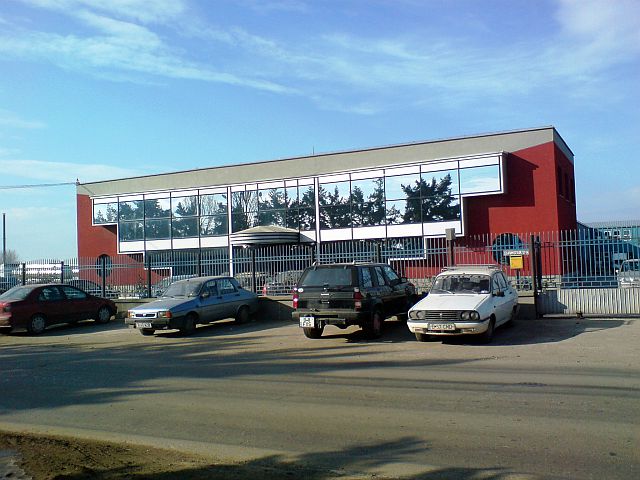 About us
Details

Category: Company
INOX SA is a Romanian private company specialized in the production of elements for professional use for the kitchens and food serving and processing areas and display of food. It was established in 1937.
The management of the company is handled by a, dynamic staff that, thanks to its skills, has consolidated an efficient technical-production structure.
The in-depth knowledge of the market along with the adoption of the most modern technologies has allowed INOX SA to satisfy the requests for functionality and reliability of the most demanding customers, bringing the quality of its products to the very highest levels. For this reason, INOX SA is today successfully representing the best quality standards of European-made products.
Always aim to build sustainable partnerships HoReCa and Retail industries in Romania, the constant orientation to customer requirements.
The satisfaction of the results allows us to believe strongly in the future.
The tradition and experience of over 75 years speak for themselves. The wide range of products and the types of our products highlight the experience and skills of our staff.
Today, the company , through constantly technological modernization started in 2006 , focused on the next generation :
Equipment and neutral accessories for professional kitchens, food preparation areas ;
Complete solutions for professional kitchens , supermarkets and hypermarkets ;
Neutral Equipment for bars ;
Stainless steel railings and also ramps and access stairs for disabled individuals, or combinations with other materials;
Furniture for various purposes: urban, offices, housing, recreation, including ornamental articles ;
Furniture and equipment for the hospital and prison;
Customised equipment for confectionery industry , bakery ( fresh or frozen ) ;
Customised equipment for the fish and meat processing industry (furniture, storage facilities, goods transported, etc.).
Customized solutions for milking parlors for sheep and goats ;
Modular building systems for outdoor kitchens ;
Lifts and elevators of goods and people ;
Stainless steel cutlery .
Our company's strength is based on the use of best quality materials and the input of our highly qualified and skilled staff, the manufacturing line which is flexible enough to be used both for serial or one-off production and our experience in designing new products